Friday, May 25, 2012
And he actually threw it down the middle of the plate on top of all of that.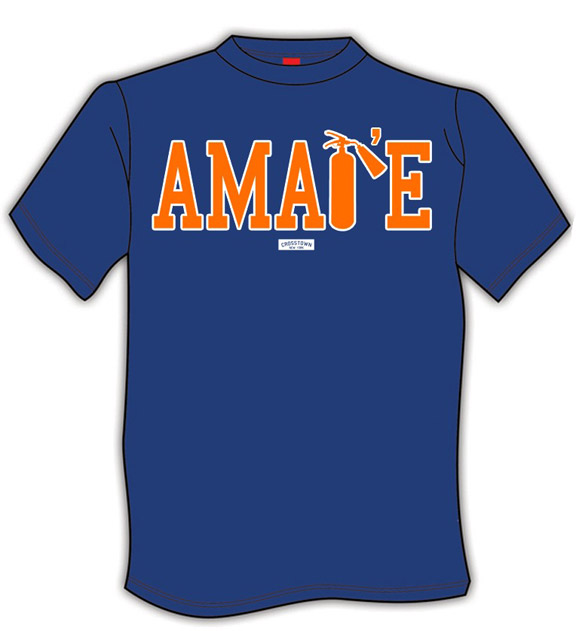 I saw some kid at the gym today wearing this shirt. Too soon?
Halfway through Game 4, the Heat were down eight and in danger of being down 3-1 in their series against the Indiana Pacers. Talks were going on about LeBron James being too tired. The absence of Chris Bosh proved to make a huge difference. And people were actually talking about trading Dwyane Wade.
Here, we sit at the end of the series with Miami winning three in a row and moving on to the Eastern Conference Finals, on the back of Wade, no less.
Wade scored 41 points, including 26 in the first half, and simply made defenders look silly all night. It didn't matter that the Heat only received offensive contributions from four players. It didn't matter that Chris Bosh had yet to make his return. The Heat handled the Pacers with ease.
What many people have to realize is how good the Heat actually are. Yes, it's simple to scrutinize, overanalyze, and point out their flaws. They have no big men after Bosh and Haslem (who is undersized). Mario Chalmers is their starting point guard. They struggle making game winning shots. And they really have no depth.
But when the Heat get going, there is no one that can stop them. Not Oklahoma City. Not San Antonio. No one.
Now, that doesn't mean that they are a better team than the Spurs or the Thunder. It just means that if Miami can manage to play the way they did in the past three games, they will be incredibly difficult to beat.
Obviously Wade and James have to be fantastic. They're two of the best five players in the league. It's their jobs. They also have to get going in transition. Three pointers must be made by Shane Battier, Mike Miller, and Chalmers. And they must play defense like they have all year.
If they can do this, they can win a title. Even without Chris Bosh. That's how good they actually are. When they're rolling on all cylinders like they were against the Knicks and in some of the games against the Pacers, resistance is simply futile.
The Heat still have a lot to prove. Both individually and as a team. But they certainly have the ability to do it. Wade showed us that last night.
Thursday, May 24, 2012
It's a fun time in sports right now with three of the four major sports still in action and the NBA and NHL in the playoffs. Let's take a look back at what happened yesterday.
The Devils knocked off the Rangers 5-3 in a pivotal Game 5. The Devils struck early and often, getting three goals in the first ten minutes from Stephen Gionta, Patrik Elias, and Travis Zajac. However, the Rangers were able to tie it up with a goal in each period by Brandon Prust, Ryan Callahan, and Marian Gaborik. Ryan Carter scored the decisive goal for the Devils with 4:24 left to go in the game, and Zach Parise hit the empty netter to clinch it. The Devils have managed to have lapses like this where they score in bunches and then disappear, but they were able to hold on in this one. It just seems that New Jersey is more relaxed and focused where the Rangers are lost and sluggish at times. Plus, Henrik Lundqvist having his worst game of the playoffs was not what New York needed. They have a tall task in front of them as they head back to the Rock. Many will point out that this series mirrors the ones against Ottawa and Washington, but the Devils are a different kind of animal. Lundqvist will need to forget about this game quickly and carry the Rangers. Game 6 is Friday at 8 in New Jersey.
A. I. was in the building as the 76ers played huge to force a Game 7 against the Celtics. While Boston won the battle on the boards, it was Philly's defense that made the difference, holding the green men to just 33% shooting from the field and under 40 points in the second half. Jrue Holiday was huge with 20 points and six assists, Elton Brand had a double double, and Andre Iguodala made plays like he has this entire postseason. Brandon Bass, the man who killed the 76ers in Game 5, was held to a 2 for 12 shooting night, showing that Doug Collins had his squad make the right adjustments. The thing a lot of people don't realize is that the Sixers had an amazing first half of the season. They're a legitimate team. Indiana Lite may be a good term for them. They have a bunch of young and talented players, veteran leaders, but no true stars. And you know what? They're ok with that. If the 76ers and Pacers somehow make it to the Eastern Conference Finals, it will truly be a spectacle and show that their team brand of basketball that relies on defense, coaching, and contributions from everyone can get it done. Philly has done a remarkable job thus far, and I would love to see them take Game 7 in Boston and advance.
My Red Sox thankfully took the rubber game against Baltimore, 6-5. Daniel Bard pitched pretty well, giving up two runs on five hits in five and a third. While the bullpen was shaky as usual, the Boston offense bailed them out with home runs by Daniel Nava, Kelly Shoppach, and Scott Posednik. Jake Arrieta took the loss for the Orioles. He pitched one out more than Bard, but gave up two more runs. Nick Johnson hit two homeruns for three RBIs out of the DH spot for Baltimore. The Red Sox are now five and a half games behind the Orioles in the AL East.
The Mets picked up a nice win on the arm of the Niester Bunny (unfortunately that isn't as effective unless it's on Easter. Joke credit goes to Jim Cortiglia) who gave up only one earned run through seven and two thirds while striking out five in a 3-1 victory. Charlie Morton got the loss for Pittsburgh, although he pitched a quality game. David Wright drove in a run and is now batting a shade under .400. Both of these teams have certainly overachieved this year, and we'll see how long it keeps up as New York is two games out of first while the Pirates are five back from the Cardinals.
The Rays beat the division rival Blue Jays 5-4 in 11 innings on a B. J. Upton walk off double. James Shields was a demon, striking out 10 batters through seven and a third innings. Jose Bautista seems to be finding his stroke again as he blasted his 12th homer of the season. Three games separate these two teams in the incredibly competitive AL East, but the Rays are one game behind the Orioles for the top spot.
Barry Zito gave up eight runs (four earned) to the Brewers and the Giants were never able to get back into it. Milwaukee's starter, Marco Estrada, only pitched one inning before going down with a leg injury. The Brewers' bullpen was shaky, but managed to hold on as the hairless John Axford got the save. Aramis Ramirez was big for the Brewers as he drove in three runs on two hits. Both of these teams who were expected to have great seasons are still struggling to crawl back in their respective division races, each seven games from the leader.
The struggling Angels picked up a much needed win over the rival A's in 11, 3-1. Jordan Noberto blew it for Oakland who is still in second place in the AL West. Jered Weaver had a dominant game, pitching eight innings and giving up only one run on three hits. Alberto Callapso drove in the game winning run, while Albert Pujols went a pedestrian one for four.
Cole Hamels mowed down Washington, keeping them scoreless on four hits through eight innings in a 4-1 victory. He also struck out eight. Shane Victorino drove in two runs and the Phillies are now four and a half behind the Nats in the NL East.
The ageless Kevin Millwood held his former team scoreless through six and a grand slam by Alex Liddi propelled the Mariners past the Rangers 5-3. Ian Kinsler, Josh Hamilton, and Adrian Beltre were the only Texas players to get a hit all night. Seattle is six and a half games behind them in the AL West.
The Reds won their fifth straight game behind a walk off home run from Todd Frazier to beat the Braves 2-1. Bronson Arroyo looked liked his old self, giving up only one run through six and two thirds while striking out seven. Both of these teams are a half game out of the division lead in their respective divisions.
The Rockies clocked the Marlins thanks to four RBIs off of a double and a home run by Troy Tulowitzki. Alex White picked up his first win for the season, while Carlos Zambrano was shelled for seven runs in five innings.
The Indians beat the disappointing Tigers 4-2 and increased their lead over them to five games. Detroit has been a mess thus far, and could only muster two runs off of eight hits. Travis Hafner hit a home run for Cleveland.
Yankee fans let out a collective thank you, not just because their team won its first series in over a week, but also because Alex Rodriguez recaptured his stroke by hitting two home runs in an 8-3 victory. Andy Pettitte was sharp again in the winning, allowing two runs in seven innings and striking out eight. Will Smith got the loss for Kansas City, and promptly returned to Bel Air.
The Astros beat the Cubs 5-1 as Wandy Rodriguez was the hero by giving up only one run through seven innings and striking out five, while Rafael Dolis was the goat who got the loss, giving three runs in less than an inning. Chicago is a disaster as usual, but Houston is playing surprisingly well, only four games behind St. Louis in the NL Central.
The White Sox blanked the Twins 6-0 as Chris Sale pitched seven scoreless innings of two hit baseball. Paul Konerko went three for four for the .500 Sox, while the Twins fell into a 10 game deficit in the AL Central.
The Cardinals continued to fly high as they beat the Padres 6-3. Carlos Beltran kept up his torrid pace with another home run. Despite losing their best hitter, best pitcher, and future Hall of Fame manager, St. Louis looks like the second best team in the NL, and one who fully intends to defend its title.
The Dodgers, who are in my opinion the best team in the NL, were punched in the mouth by the Diamondbacks 11-4. Ted Lily gave up eight runs in just over three innings. You knew he was bound to have one of those games. Aaron Hill and Willie Bloomquist each had three hits for Arizona who is still 10 and a half games behind L. A. in the NL West.
Shaq wants to be the new GM of the Magic. Why? I understand, many former players have good basketball minds and can run a team (Larry Bird), but Shaq just isn't one of them. He's struggled to make positive contributions to TNT through the current NBA playoffs and he won't help the mess that Orlando has made, but rather make it worse. Also, it's clear that him and Dwight Howard have butted heads in the past, so this makes absolutely no sense.
No hockey tonight but the Heat will play the Pacers in Game 6 of the Eastern Conference semifinals. Miami will miss Udonis Haslem and Dexter Pittman (PLEASE, SUSPEND ANYONE BUT DEXTER PITTMAN), which is why I think Indiana pulls this one out and forces a Game 7. Expect monster performances from Roy Hibbert and David West.
Hello, my name is Chris Molicki, and I am a sports fanatic and hope to one day become a sports writer. I have written a lot about college basketball on my blogs, most notably
The College Court
, but I have a passion to write more about other sports. I've often struggled to find a place to post about anything, so I have created this as a blog for just about any sport. Here, I will give a daily update on everything going on in the world of sports as well as other articles about important topics. You can contact me at molickc1@tcnj.edu.