Dirk wants another ring, but his 2011 teammates are all but gone.
Over the past few months, the Dallas Mavericks have received a wakeup call. They realized that their plan of capturing Deron Williams and Dwight Howard and giving Dirk Nowitzki one last run at an NBA title may not work out as perfectly as they thought. Then they got swept by the Thunder in the first round of the playoffs. Now they have to deal with a slew of free agents. Dallas may be in trouble.
The main goal for the Mavs is to obtain the pieces to win Dirk another ring, so we'll keep that in mind. We'll also act as if the team won't be getting Williams or Howard, because neither of those are sure things (although Williams is more likely because Dallas would have to trade for Howard). Let's take a look at the guys they're losing first.
Both Jason Kidd and Jason Terry will likely not be back with the team. The duo that won a championship last year is getting old, and neither are truly starting caliber players. Kidd would be a great veteran backup and Terry may be limited even in his bench role. Delonte West is a guy that they could resign. West wouldn't demand a huge contract and he showed similar promise this year with Dallas as he did when LeBron James was on the Cavaliers. He's a talented and versatile guard that is very valuable and will likely remain as the team's shooting guard. As for Ian Mahinmi, the big man should find a bigger contract elsewhere, and not be resigned by the team.
All that being said, Dallas has a lot of holes. With Kidd gone, all that's left at PG is Rodrigue Beaubois. Beaubois is more of a high energy backup, so the Mavs will need a point man. Then, West is at shooting guard and Vince Carter is backing him up. While Carter wasn't outstanding last year, he should be good enough to come off the bench, although he is getting older.
Shawn Marion is still the team's small forward but they will be looking for his eventual replacement. The same goes with Nowitzki at power forward. He's still an All-Star, but the team will want to find a new PF knowing that he doesn't have too much time left in the league. And finally, Brendan Haywood is at center. Haywood is no more than a veteran backup. The team needs a new center.
So here's the theme for the Mavericks' draft: Draft the best player at nearly every position because we have serious needs everywhere with free agents and guys going gray, but look specifically for players who can make an immediate impact and help Dirk win a title.
Yeah, let's do that...
Dallas must understand that they're not going to give Nowitzki a championship team through their draft picks (#17 and #55), but rather give him championship teammates. With that in mind, let's find some players who can help out right away.
If the team is looking at a point guard, they'll likely miss out on the Lillard/Marshall sweepstakes unless they trade up. Therefore, the best (and only option) at this point in the draft is Kentucky's Marquis Teague. Teague is a great passer and a good scorer, but he has room for improvement, especially on his jump shot. He may not be able to make a big enough impact at the point in the next few years, so Dallas may look away.
The Mavs could also try to add a combo guard, in which case, Dion Waiters or Austin Rivers are options. It's questionable that they'll still be on the board at #17, but would add talent and scoring to the guard position. Rivers may be more NBA ready, but his attitude and style of play makes him a bigger risk. Waiters is a safer pick.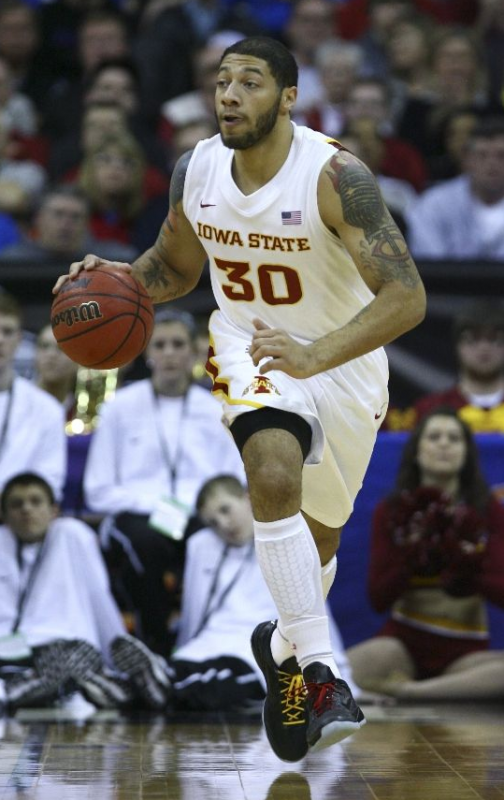 White's game is similar to Shawn Marion's.
There are a handful of small forwards if the team wants to look for a backup and eventual replacement for Marion. Moe Harkless from St. John's is a talented and athletic scorer who will add instant offense to this team. He'll also get the chance to learn under Marion. Royce White from Iowa St. is a very similar player to Marion in the sense that they both have a variety of tools (scoring, rebounding, defense, blocking shots). This may be the perfect place for White to refine his game and reach his full potential. Then there's Terrence Jones from Kentucky. While he took a step back from his freshman season, he can still score at the pro level and play both forward positions. Jefferey Taylor is another versatile option that has strengths in nearly every asset of the game.
A lot of talented PF's will be taken at this time, so Dirk's future replacement may not be taken in this draft. However, it's interesting to see if Dallas takes a look at St. Bonaventure's Andrew Nicholson. Nicholson is similar to Nowitzki in the sense that he scores in so many ways, is crafty, and has a high basketball IQ. It's definitely a reach, but keep an eye out for that.
Fab Melo and Festus Ezeli are two defensive minded centers that should still be around for the Mavs' pick, I just can't seem them being selected. They're not going to contribute too much more than Haywood for at least a few seasons, and Dallas should draft a big man later instead.
That was a mouthful. See? This team is difficult because it put itself in a difficult position. With all of that being said, I think the team should take Harkless or White. Both players seem like perfect fits here, especially White. They'll be able to make an immediate impact while not being thrown into the fire right away.
Now, onto the 55th pick. The Mavericks should take the best player available, but keep point guard and center specifically in mind. Here's a few guys for those spots.
Satoransky is the tallest PG since Magic Johnson.
Tomas Satoransky of the Czech Republic is a combo guard who will be ready to play right away. He has great size (6'8") and solid offensive ability. Xavier's Tu Holloway is a physical scorer for a point guard and is developing his passing skills. A reach here would be Long Beach St.'s Casper Ware. He has all the tools to be a big time point guard, but his height (5'10") is an issue. He would be more of the next J. J. Barea than the next Kidd.
Because center is a thin position in this draft, I believe the Mavs look in free agency for a big to spell Haywood. If they do go this route, I suggest Justin Hamilton from LSU. Hamilton is a very mobile C with good hands and a high motor. He may be able to contribute in certain spots for Dallas.
In conclusion, I would go with Royce White and Tomas Satoransky. Those two would give them a starting lineup of Rodrigue Beaubois, Delonte West, Shawn Marion, Dirk Nowitzki, and Brendan Haywood, and a bench that includes White, Satoransky, and Vince Carter.
Age and depth is a huge issue for this team in limbo, so the best they can do is to try to fix both to the best of their abilities. I think I did a pretty good job of helping them out with that. This team could be title contenders with Williams, Howard, or both, so they'll keep their fingers crossed.
The Minnesota Timberwolves are now on the clock, and we'll see if they truly have lost the title of "Worst Drafters Ever."