James is now a champion and can celebrate his accomplishment.
Polarizing. That is what LeBron James is, has been, and always will be. Everyone has an opinion on him. You love him or hate him. He has that ability to draw the attention of the entire nation. Recently, he has become more of a villan. He took his talents to South Beach, struggled in the 2011 NBA Finals, and made everyone believe that he just didn't have what it takes. Then something changed. James flipped a switch. He got it, and now he is a champion. And that will go a long way in changing people's opinions of him.
It's no secret that James is currently the best player in the world. His unique combination of speed, size, strength, athleticism, versatility, etc. is what makes him so different from any player we've ever seen. If there was a one on one tournament that pitted every all-time great in their prime against each other, James would probably win. That's why everyone loved him in Cleveland. He dominated on the floor and carried the team on his back. He turned into an unstoppable force that filled the stat sheet every night. He had the potential to win title after title, but just couldn't seem to get there. But we all rooted for him.
Then the infamous "Decision" came that turned everyone against him. The guarantee of not one, not two, not three, and so on. The boring and sad city of Cleveland being exchanged for the bright lights of Miami. And all of the sudden, we hated James. We rooted for him to fail. We questioned his game (foolishly). We called him out for not being clutch. The boos rained down from nearly every non-Heat fan. LeBron James was the bad guy. Why would anyone like him? He screwed his hometown. He made foolish comments. There were times he seemed more interested in Twitter than in his next game. And when Dirk Nowitzki and the Dallas Mavericks broke his heart in the Finals, America erupted. We cheered the Mavs as if they were our favorite team. Everyone was ecstatic to see the Heat lose. James and his team bulldozed everyone in the East, maybe thinking he would be handed the Larry O'Brien trophy right then and there, but got a rude awakening against Dallas. Shortly after that, LeBron went into a cocoon for a few weeks. And that's when it all changed.
LeBron became a new player once the 2012 playoffs began. He knew that nothing would be presented to him on a silver platter. He knew that even though he was the best, it wasn't going to be easy. He knew that he had to focus on nothing but basketball, and truly make winning a title as important as life or death.
We saw it in the regular season, as he averaged 27.1 points, 7.9 rebounds, and 6.2 assists per game. We saw him play and defend every position. Once the playoffs began, we saw him compete like never before.
James swatted away the New York Knicks as if they were a fly buzzing around his head. Injuries derailed the Knicks and the Heat were simply just better. That part was easy.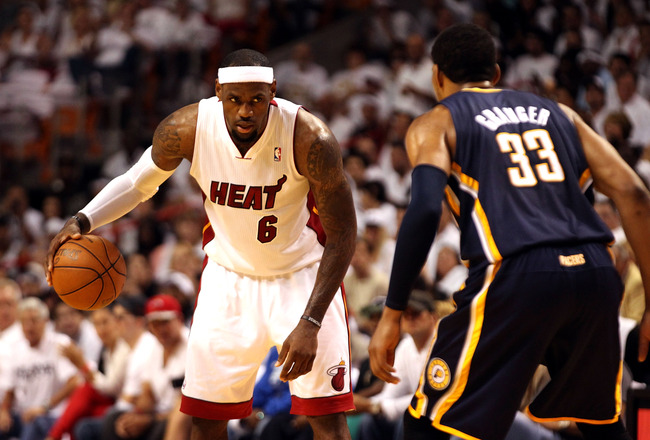 James overcame many hurdles like Granger and the Pacers.
But when adversity came around, that was where James has always struggled in his career. Sure, he could dominate at will. But what happened when the going got tough? What happened when someone said, "I'm not going to let you beat me tonight, I don't care if you're better." The old LeBron would probably shy from the challenge. The new one is a different story.
Down two games to one and missing Chris Bosh against the Indiana Pacers, LeBron knew his team was in trouble. Dwyane Wade wasn't at 100%. James was forced to cover the Indiana bigs who bruised him night in and night out. And he got that challenge of someone refusing to let him beat them. That was Danny Granger.
Granger played physical defense on James the whole series and didn't hesitate to get in his face. Granger didn't like the way the Heat would get all of the calls and walk around with the swagger they do because they're superstars. He would have none of that. Granger was ready to shut them up once and for all.
"No you're not," said LeBron.
Instead, James went for 40, 18, and 9 in Game 3 in one of his classic performances to tie the series. The Heat would win the next two and the rest was history.
Then there was the old Boston Celtics, a team that beat up on James not just in Miami, but in Cleveland as well. Kevin Garnett got pleasure out of taunting James. The veterans played extra hard against the Heat. When they went ahead in the series 3-2 after being down 2-0, the sky was falling. No one thought the Heat could win Game 6 in Boston and then a Game 7 in Miami.
No one except James.
Faced with adversity again, James was unconscious in Game 6, scoring 45 points and grabbing 15 rebounds. He went into Boston, ripped out the hearts of every single person in the building, and quietly left. Everyone saw the look on his face. He was in the zone. He wouldn't be stopped. Basketball had become a matter of life and death.
Winning close games in OKC showed that James was clutch.
After beating the Celtics, James had one final test in the Oklahoma City Thunder. After losing Game 1, it seemed that there was no way the Heat could beat OKC with the roll they were on. That's why everyone was surprised to see Miami win three close games in a row, the third being one where James gutted it out and played through cramps to help his team to victory.
Game 5 was a microcosm of the whole postseason in one. Everything had finally come together. Everything was clicking. Everyone was playing well. And James had finally gotten it. He became a leader both on and off the floor. He made sure his teammates did what they needed to do. He held himself accountable for mistakes and vowed to improve. He would not go down.
Now after James has won his first ring, he's going to use his polarizing nature to change to mood of the basketball world once again. He finally did it. He won the big one. He gets it. The mental game is over. He has the potential to win many more after this. Not two, not three, not four...
It's kind of beautiful to see everything come together like this. Personally, I was a huge fan of James when he was in Cleveland. He was unlike anything I'd ever seen. I had to love him and what he did on the court. Then he went to Miami and I hated him. I hated him for betraying the Cavs and for his cocky attitude and for joining up with other superstars instead of finishing the job he was doing in Cleveland.
After a while, I became a bit indifferent. I understood that there was noting wrong with going to the Heat and teaming with Wade and Bosh. Jordan had Pippen and Rodman, Magic had Kareem and Worthy, Bird had Parish and McHale. Everyone needs help. However, I still rooted for him to fail.
My opinion has changed yet again of him after winning the NBA championship. We've seen him grow up, lose his immaturity, and take control of his destiny. He's finally playing at the level he's capable of, mentally, physically, and emotionally. He finally has that ring that eluded him for so long. And he has a chance to do something special and win a lot more.
After winning his first title, it looks like there's more to come for James.
So yes, I will root for LeBron James again. No, I'm not going to become a Heat bandwagoner, but I think it would be very cool to see just how great he can be. With he skills, he could go down as one of the best of all time. Will he ever be able to actually be compared with Jordan or Kobe? It depends on how many titles he wins. But could it happen? You never know.
James proved all of his critics wrong. And he did it himself. He's not the same LeBron we used to know. He's grown from a boy to a man. What he does for basketball is something we should cherish. He turns the court into his canvas and paints beautiful pieces of art with his basketball skills. He should be appreciated, because talents like him are once in a lifetime. As a basketball fan, you couldn't ask for more.
The question used to be this: Why would you like LeBron James? But now, after all he's gone through and what he's accomplished and what he can accomplish, I think the question should now be this: Why not?