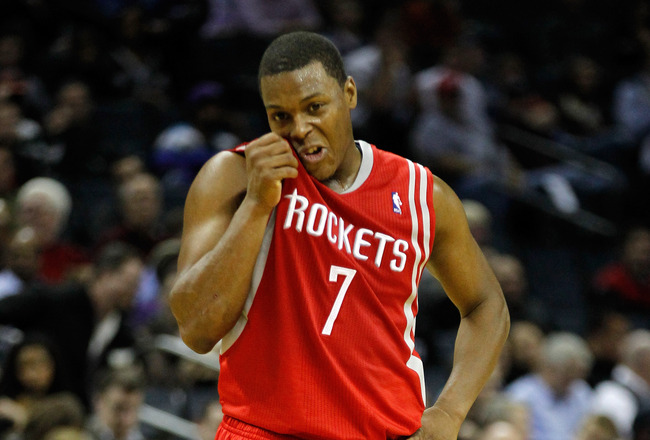 Lowry give the Rockets a versatile PG after his breakout year.
This will be the third year in a row that the Houston Rockets pick 14th in the NBA draft. That means that this will be the third year in a row that the Rockets had the best record of teams that did not make the playoffs. Desperate to get over the hump, let's see what we can do for Houston.
The Rockets are one of the most puzzling teams to figure out in this draft. They have a handful of free agents. Goran Dragic, Courtney Lee, and Chase Budinger will most likely all be resigned due to contract flexibility (restricted free agents, bird rights, etc.). Marcus Camby will likely be let go as he will probably retire soon. But the question remains: does Houston try again to go after Pau Gasol?
It's clear that the Lakers need a shakeup and wanted to send Gasol to the Rockets last season. I can see the same exact thing happening this season. Maybe even a draft day trade could be in the works. The swap last year would have sent Dragic, Kevin Martin, and Luis Scola to Los Angeles for Gasol. So we'll go on the note that Houston will be pushing hard for this trade to happen, but also know it's no guarantee, thanks to the iron fist of David Stern.
The team is fine at point guard, having Dragic and Kyle Lowry after his breakout year. That also gives them insurance in case Dragic is traded. Shooting guard is interesting. It became evident last season that Kevin Martin clearly has trouble fitting in with this team, so they'll look to move him for Gasol. Lee is a solid player, especially on defense, but it's hard to consider him a starting caliber player.
The position of small forward bears a plethora of young players. Chandler Parsons is the starter and really exceeded expectations in his first year in the league. Budinger should be resigned as a capable backup. And Marcus Morris, a lottery pick a year ago, should not be forgotten, even after a horrible rookie season. Plus, there's Donatas Motiejunas, the Lithuanian big man who can play both forward spots. It would probably be a good idea not to worry about a SF and let the young guns figure things out. At power forward is Scola, Patrick Patterson and possibly Motiejunas. And at center is Samuel Dalembert and second year man Greg Smith. The big man positions are crowded and leave uncertainty, especially with the possibility of Gasol coming in.
With all that being said, the Rockets have two big needs and two picks to fill them: A shooting guard to replace the incumbent Martin, specifically one with an NBA ready offensive game, and to add a big man who would mesh well with the bigs they already have and the potential acquiring of Gasol.
Picking 14th and 16th, Houston is on the clock.
Lamb would add explosive scoring to the team.
It wont really matter too match who the Rockets take with which pick. They'll just have to gauge Philadelphia's (15th pick) interest in certain players. There are four wing players that come into mind who can play the 2-guard and have a dynamic scoring ability. Terrence Ross from Washington is a pure scorer. He can shoot the ball anywhere and is explosive when attacking the basket. Lowry would have no trouble finding him for alley oops. Then there's Jeremy Lamb from Connecticut. Lamb is also a spot on shooter who has a wide variety of ways to score. Lamb's length and defense are very desirable for a SG. Austin Rivers from Duke is another target. Rivers is a natural born scorer who can push the ball in transition and even play some point guard. His versatility will be attractive to Houston, but his selfishness may steer them away. Finally, Dion Waiters of Syracuse is another fine option. Waiters has the ability to do a lot of things with the ball and he's one of the few players that scouts see having the true potential to be a superstar in this draft.
I like Lamb as the pick here. Ross will probably already be taken, but I see Lamb slipping a bit because of how he did as a leader for the Huskies last year. Lamb is an NBA ready talent, but he has to add some bulk and work on the mental aspect of the game. Because the Rockets have a good team, he'll be given the chance to learn. If Lamb is taken, Waiters is the pick.
Leonard could possibly compliment Pau Gasol.
Now there's the argument of the big man. At PF, Tyler Zeller, John Henson, and Arnett Moultrie will probably already be taken. Jared Sullinger is an option, as is Terrence Jones. But the guy I like is Meyers Leonard.
In fact, I really like Leonard. He's an athletic center who is also very aggressive. There aren't many big man who are as explosive as he is. His ability to score down low is only outshined by his shot blocking and defending the rim.
And even with the buildup in the frontcourt, here's why Leonard makes sense for Houston. If they do trade for Gasol, he could play power forward and Leonard could play center. The Lakers had great success from their two-seven footer system and Gasol's shooting ability makes him comfortable playing power forward as opposed to his normal position. Leonard would also learn a lot from Gasol, as well as Dalembert. If the Rockets don't get Gasol, Leonard can still play center and Scola will stay at PF. Basically, Gasol's versatility gives Houston the flexibility of making Leonard the pick, and not Sullinger or Jones, who are lesser options.
Mind games with the 76ers shall occur, but because Lamb is the better talent, the Rockets should pick him 14th overall and than take Leonard 16th overall. That gives the team a starting lineup of Lowry, Lee, Parsons, Gasol/Scola, and Leonard, and a bench with Lamb, Budinger, Morris, Patterson, and Dalmbert (and possibly Dragic and Martin). Working out this draft day trade would be perfect for Houston because as you see, they have a ton of pieces, but no real stars. Having Gasol while sacrificing a little bit of their depth could possibly attract another big name player there and make the Rockets a playoff team once again.
The next squad I look to help is the ever improving 76ers.