How much longer will Gay be a Grizzly?
After upsetting the San Antonio Spurs as an eight seed and taking the Oklahoma City Thunder to seven games last year, a lot was expected out of the Memphis Grizzlies this season. And after a late season surge followed by a home playoff series, it seemed like they would be able to meet expectations. Then you saw what happened. They blew leads, had issues with Rudy Gay and Zach Randolph, and lost to the Clippers. The team looks to get back on track, starting with the 2012 draft.
The Grizzlies begin the teams that only have one draft pick. From here on out, the rest of the teams will have just their lone pick. All the teams that had multiple picks have been covered already.
Some of the more interesting free agents decisions lie in Memphis. Their time with Gilbert Arenas went better than many had expected, but there doesn't seem to be much reason to bring this nut case back. Hamed Haddadi likely won't return either. He's a nice player off the bench, but isn't vital to the team and can be passed on. The O. J. Mayo decision looms here. Many think Mayo will be let free. His attitude problems have caused the team headaches and he's almost been traded multiple times. Mayo is a very talented scorer and provided the Griz with a lift off the bench, but his days in the state of Tennessee have been numbered for a while now.
Finally, of course, is the Mareese Speights-Darrell Arthur debate. Both are talented and young power forwards who would be more than capable of backing up Randolph. So who do they choose? Speights has a better low post game and is the superior rebounder, but Arthur is the better defender and showed a lot of promise before he went down with an injury last season. My thought is that they'll at least sign one of them, if not both (because you don't know what you'll get with Randolph these days), so we'll call them King Sparthur.
Another storyline to remember is the possible trading of Gay. It seems as though he doesn't fit into the team's makeup, and Memphis could get a nice haul for him. They would be without a small forward, and Gay is one of the best, so keep an eye on that.
Now let's look at the Grizzlies' current team. Mike Conley is the point guard and has developed into one of the best in the league. He is in his prime and is showing no signs of slowing down, which is why I'm confused as to why so many mocks have Memphis selecting Marquis Teague, Kentucky's PG. Sure, they'll want a backup (although they did draft Josh Selby last year), but why waste your only pick on something that's not a serious need? A veteran guard to come off the bench would be great for this team. It worked with Derek Fisher and the Thunder this year and it actually worked with Arenas on the Grizzlies too. So sorry to be a spoiler, but this squad does not need a point guard and Teague is not the pick. Shooting guard is a completely different story. Presumably without Mayo, all Memphis has is defensive veteran Tony Allen. They will want to add SG who has big time scoring ability, but they need to be careful not to draft a Mayo clone.
Either Arthur or Speights (Philly) may not be back in Memphis.
At small forward lies Gay and Quincy Pondexter. Although Pondexter was a capable backup last season, the question mark that is Rudy Gay may make this team draft a SF. At power forward is the mess of Randolph and King Sparthur. I don't see the team drafting a PF because they have the ability to figure out that position with the players on their current roster. Finally, Marc Gasol would be the lone center if Haddadi leaves. Memphis may want to find a big to help him out.
So let's see here. We need a big time scorer and shooting guard, a small forward with high potential, or a C to back up Gasol. And they have to be physical. That is the Grizzlies' style and they'll want players who will buy into it. With all that being said, let's explore the options for Memphis' only selection, #25.
There are three tiers of shooting guards that the Grizzlies can choose from here. In the first tier, they would have to move up to grab Dion Waiters or Terrence Ross. Waiters stock is rising fast and Ross will probably already be picked high so unless they make a big move, they may not be able to grab one of them. Oh, and they SHOULD NOT draft Austin Rivers. Remember the Mayo clone reference? Yeah, that's him.
The second tier is a trio of players who should mostly be available around #25. Doron Lamb is probably their best bet. He adds clutch scoring and leadership. He knows what it takes to win and will buy into Memphis' style. John Jenkins from Vanderbilt may be the best shooter of the draft. He's lights out from anywhere and is able to create his own shot with pump fakes. He will struggle in some areas, so whoever drafts him will know what they're getting, but he could be instant offense off the bench. Evan Fournier from France is another prospect who excels at getting to the basket.
Right below these guys is the third tier that consists of Jared Cunningham, Will Barton, and Khris Middleton. Cunningham probably won't be considered because he is a defensive specialist. Both Barton and Middleton have a wide arsenal to score. Middleton's the better shooter, so that could tilt things in his favor.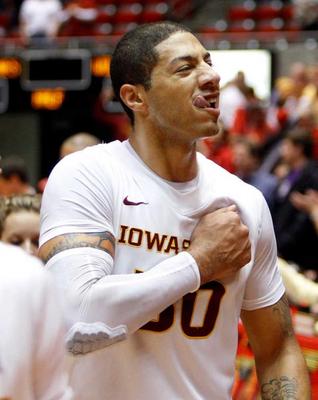 White will become the NBA's swiss army knife.
If the team looks to go the small forward route, there are a plethora of guys around this spot in the draft, and there certainly should be a few of them left. Terrence Jones and Perry Jones both have the potential that the Grizzlies are looking for, but it would be surprising if they're still on the board. Royce White from Iowa St. is a high risk/high reward kind of guy who could really be special if he masters all of his tools. Vanderbilt's Jeffery Taylor is a versatile player who shoots at a very high percentage and could become a top defender in the NBA. Quincy Miller is similar. The Baylor product's defense is aided by his incredible wingspan (7'3") and he can create his own shot. Finally, Moe Harkless from St. John's could be a very good scorer in this league and although he is still raw, has great potential.
Here's how I would rank the SF's for Memphis: Perry Jones, Terrence Jones, Harkless, White, Taylor, Miller. If they decide to draft at this position, they should follow this chain.
If, by chance, the team does go the center route, there are two options: Fab Melo and Festus Ezeli. There is a chance Melo may be gone by now, but that doesn't matter, because Ezeli fits better with the Grizzlies. Ezeli is strong, has a big frame, and a long wingspan. His quick feet are also a plus. The Nigerian big man would embrace the physical Memphis game.
Who they draft depends on who is left, so let me create a short list of prospects. Excluding Waiters, Ross, and both Jones', they should draft in this order: Lamb, Harkless, White, Jenkins, Taylor, Middleton, Ezeli, Miller, Barton. Ultimately, I think they'll draft White. He has lottery level talent and may already be picked here, but I have a hunch he may drop to this spot. Even if the team doesn't get rid of Gay, White would be a very good backup.
With that, the team's starting lineup would still be Conley, Allen, Gay, Randolph, and Gasol, and the bench would consist of Selby, White, Pondexter, and King Sparthur. This team still has issues at depth and perimeter scoring, but they have options in this draft and free agency could help them even more.
The Indiana Pacers nearly beat the Miami Heat this past season in the playoffs. They're now on the clock. Who do they take? Check back to find out.