The NBA draft lottery is set and the draft is not too far off itself. With a lot of very talented players in this year's class, it will be important for teams to choose wisely. I'm here with a new piece called "How Can I Help You?" where I go over each team's needs. Maybe some of these GM's will listen to me.
I'll start with the team that won the first pick in the draft, the New Orleans Hornets. The Hornets pick first and 10th (two lottery picks), but don't have a second round pick. This team needs help in a lot of areas, so New Orleans desperately needs to find two players that can build their team around.
The first pick will almost definitely be Kentucky standout Anthony Davis. Davis will fill the power forward spot for the Hornets. He is an incredibly athletic big man who can shoot, score down low, handle the ball, plays excellent defense, and has a knack for blocking shots. I'm not as high on Davis as everyone else is, so I believe that while he will be a fantastic NBA player, he probably won't be the best player on a championship team. That is why this team needs to resign Eric Gordon. Gordon, despite being injured last year, has blossomed into a top NBA scorer and can be the centerpiece for the Hornets' future. They'll have to give him a big payday, but the former Hoosier will be worth the dough. The two other key free agents are Marco Belinelli and Chris Kaman. There's a good chance that New Orleans resigns neither of these players, so let's take a look at their needs after that.
At point guard, Jarrett Jack is coming off a breakout season and has proven he can be a starting point guard in the NBA. That being said, New Orleans should be happy with their current PG situation and look elsewhere. If they resign Gordon, he would be the starting shooting guard, giving the Hornets a pretty solid backcourt. This team needs to draft for need, not for depth, and right now, they don't need guards.
Small forward is an interesting position for New Orleans. They have a platoon with Trevor Ariza and Al-Farouq Aminu which played pretty well at times last season. However, if they determine it is time to move on, then SF would be a key need. At power forward, Davis would be there, as would Carl Landry, who should be a serviceable backup.
Then there's the center position, which has the underachieving Emeka Okafor sitting in it's place. The Hornets are still kicking themselves for trading Tyson Chandler for him. Okafor is no better than a backup center is this league, and New Orleans will really need a strong big man down low to pair with Davis who still needs to get bigger and stronger.
With all of that being said, it seems that small forward and center are the biggest needs for the Hornets (as long as they resign Gordon). A dream scenario would be for a player like Harrison Barnes to drop to the 10th pick, although that would be unlikely. A reach would be to draft Moe Harkless, the St. John's standout who is still very raw, but would bring some much needed offense to the team.
Realistically, the top two choices for the Hornets would be Terrence Ross or Tyler Zeller.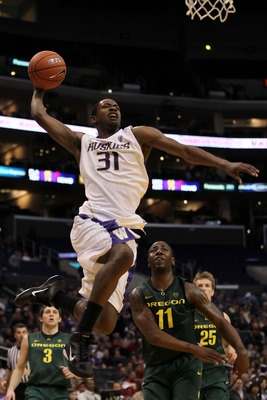 Ross may be a shooting guard, but he is 6' 6" and could play at small forward. Ross is a pure scorer who can put the ball in the basket from anywhere on the court. He is also very athletic, runs the floor well, and a premium defender with long arms. Ross would be a good piece for New Orleans to add in their rebuilding process.
As for Zeller, at 6' 11", the former Tar Heel should be able to play center at the NBA level. He is very strong down low, a good finisher, and runs the floor extremely well. Zeller is very motivated and hard working, two important traits for a young player. He will be able to bang on the boards and score in the paint, and if he develops correctly, he can become a starting center in the NBA.
Look for the Hornets to choose one of these players on draft night (or at least they should). Thanks for reading, and come back next time when I go over the dreadful Bobcats and what they must do to pull their francise out of the gutter.