Batum could break out next season if the Blazers resign him.
The Trailblazers hit a rut last season and essentially blew up their team. They traded Gerald Wallace, fired head coach Nate McMillan, and then finished the season in mediocrity. Portland will certainly have some new players in the fold next year, but there are a few who will be your usual suspects. The key is to add players in the draft that can help their current roster. Let's take a look at their situation.
There are a handful of free agents on Portland and the team will need to decide who stays and who goes. Raymond Felton is an interesting case. He's still an NBA starting point guard, but he's getting older. Even if they resign him, the Blazers will likely be in the market for a point guard to learn under him. Jonny Flynn is likely to be out after a miserable pro career so far. Jamal Crawford has a player option, but he may not want to stick around on a rebuilding squad. Nic Batum is a player who I think will be brought back. Batum is continuing to improve and Portland will want to make him their starting small forward of the future with Wallace being traded. J. J. Hickson, Shawne Williams, Hasheem Thabeet, Joel Przybilla, and Mehmet Okur are all expendable and do not factor into the team's long term plans. Greg Oden looks to take a year off to rehab his many injuries.
We'll humor the idea of Felton and Batum being the only (major) players that get resigned. Then, at point guard, Felton and Nolan Smith will fill the spots. However, like I said, the team still needs a point guard because Felton is aging and Smith seems to be more of a backup guard. Wesley Matthews is the team's shooting guard. While he is serviceable, the team may want to add another guard, possibly one that is more defensive minded.
Batum is at small forward. Unless the team wants to add depth in the second round, this position is not one of need. The same goes with power forward. LaMarcus Aldridge is this team's best player and has one of the prettiest jump shots for big men in the league. Portland is doing well in the forward department.
Center was clearly a mess for the team this season. Here are the names that were on their roster: Oden, Przybilla, Thabeet, and Kurt Thomas. The Blazers desperately need a new big man.
Portland picks 6th, 11th, 40th, and 41st. Here are some options they'll be looking at.
If you're a Blazers fan, you are praying that Andre Drummond gets drafted before your team picks. Why? Do you really want them using another lottery pick on an incredibly risky boom or bust player like Oden was? To be fair, Oden's career has been derailed more by injuries than by his skill on the court, but Portland has been burned by big men before. They may be in luck, because I think Drummond will already be off the board. Even if he's not, I expect them to avoid him.
In a draft that is so forward heavy at the top, Portland doesn't need one of those and may look to trade the pick or even move up (maybe take Michael Kidd-Gilchrist as a defensive stopper). If they stay put at #6, I think the pick is a no brainer: Damian Lillard.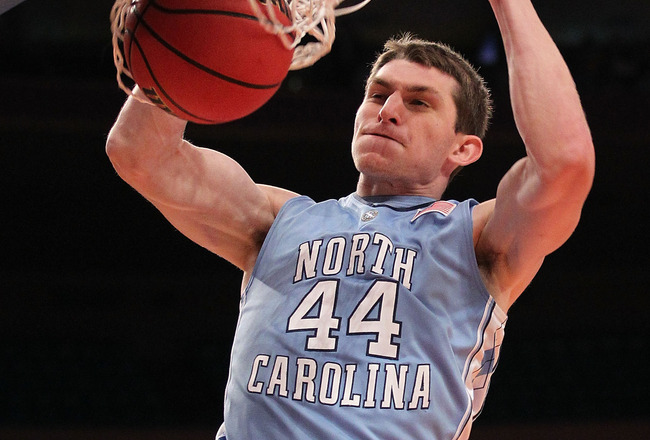 Zeller would be expected to erase bad memories of Greg Oden.
Lillard is a scoring point guard who dominated the Big Sky conference at Weber St. He excels at getting to the rim, drawing fouls, and shooting the ball from pretty much anywhere. Lillard is an NBA talent even though he's not a prototypical PG. Portland could look to grab him and have him learn from Felton, who does both scoring and playing the point well. To me, this is the pick that will be most effective in the lottery for the Trailblazers.
Next up, Portland picks at #11, and will be dying to get themselves a center, especially since there aren't too many in this class. Tyler Zeller from UNC is the top big man after Drummond. While he still needs to get stronger, Zeller has good size and runs the floor better than any big man in this draft. His hustle and post game are top notch, making him a safe pick and one that the Blazers will be comfortable making.
If the Blazers decide to add depth with this pick, they could grab Terrence Ross from Washington, who is a pure scorer but also has the length to play good defense, or they could risk it on Perry Jones and hope the versatile big man lives up to his potential.
Fast forward to the second round and picks #40 and #41. Who's still available that Portland will want?
Cunningham would get to play in the same state he went to college in.
If they decide to add some defense on the wing, Tyshawn Taylor from Kansas would be a big help. He's a combo guard who really found his scoring touch this past season, but also guards the perimeter very well. Then there's Jared Cunningham from Oregon St. The former Beaver is very explosive, but his biggest talent is his defense (dominated the Pac-12) and his length, which enables him to guard both shooting guards and small forwards. A reach would be Larry Anderson. The Big West defensive player of the year from Long Beach St. was a big factor in setting the tone for the team's defense.
Another area of need is big man depth. Someone has to spell Aldridge. Drew Gordon from New Mexico is a bruiser and someone who can battle on the boards in the NBA. Herb Pope, while a bit undersized, is a solid rebounder and has a variety of filthy post moves. His conditioning has been questioned, but the Seton Hall product seems to have regained his form. A real sleeper is Bernard James. He has the physicality to make it in the trenches of the league, but his age (he's 27 because he spent time in the Air Force) may scare teams away.
When it's all said and done, I think that Portland should take Damian Lillard, Tyler Zeller, Drew Gordon, and Jared Cunningham. That will give the team a starting lineup of Felton, Matthews, Batum, Aldridge, and Zeller, with Lillard, Cunningham, and Gordon coming off the bench. This team will succeed in getting younger, but it remains to be seen if that can translate to wins.
I'll try to help a franchise in turmoil with my next article, as I take on the task of fixing the Golden St. Warriors.