Even if they win a title, the Big 3 need help.
As I type this, the Miami Heat are currently preparing for Game 3 in the NBA Finals. They have persevered through many obstacles. What they draft for may depend on if they win the title or not, although I highly doubt that they would break up the Big 3. They need depth at nearly every position. Let's take a deeper look.
The Heat have four free agents: Ronny Turiaf, Terrell Harris, Eddy Curry, and Juwan Howard. You can say goodbye to all of them. None of them have played significant minutes for the Heat all season, and they should move on without them. Turiaf probably has the best chance of getting resigned.
Looking at the Heat's "depth" chart, you'd be hard pressed to call it that. They don't have many players that contribute. At point guard are Mario Chalmers and Norris Cole. Many think Chalmers isn't starting material, but he has been solid for Miami. Cole is still very young, completing his rookie season. The Heat do have the option of drafting a PG. At shooting guard is Dwyane Wade and Mike Miller. Wade is obviously still in his prime, although he has been playing hurt in these playoffs. Miller has been pretty bad at times, and he's shown just why the Heat need more bench options. Are two guard to back up Wade is not out of the question here.
At small forward is the best player in the NBA, LeBron James. While he plays many positions on the floor, SF is his natural spot, and the one he does the most damage in. Shane Battier has played this spot, but things would be different if the team had a true center. Playing Chris Bosh at center leads to James playing power forward and Battier at small forward. In fact, the team doesn't have a true center. Joel Anthony is too small and Dexter Pittman sucks. If Miami drafted a C, this would enable them to give James somewhat of a break instead of defending down low for 40 minutes. With James and Battier at SF and Bosh and Udonis Haslem at PF, those positions are set. The team just needs a center.
So where do the Heat need depth? Depth at point guard. And shooting guard. And they need a center. Getting another forward wouldn't be bad, but with one pick, they should look to fill their needs. The team picks 27th overall.
Center truly is the biggest need. The minutes are getting hard on LeBron and if the team is able to get rid of some of his minutes in the post, he'll be able to play longer. Plus, I feel like Bosh would play better in his natural position of power forward.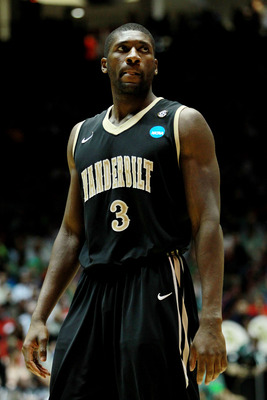 Ezeli would add much needed size to the Heat.
Many people had originally mocked Fab Melo to the Heat, but due to the shortage of centers, he will likely be gone. That's why they should take Festus Ezeli from Vanderbilt. Ezeli is a big body with great length that brings physicality to the paint. His quickness and footwork are two things that not all big men come with, and he would be greatly needed by the Heat.
If they were to take a point guard, Maquis Teague would already be gone, so I suggest Tony Wroten from Washington. Wroten has the potential to go a lot higher, but he has to work on his passing and shot selection. He excels in getting to the basket with his crossover, but work still needs to be done on his game.
By now, Doron Lamb would be off the board as well, so they would need to find another shooting guard if they decide to go that route. John Jenkins from Vanderbilt is a knock down three point shooter and Evan Fournier from France is a beast attacking the basket. Khris Middleton is another player who can score from anywhere. I'd have to go with Jenkins here, but not before Ezeli.
So by picking the Nigerian big man, the Heat's starting five could now look like this: Mario Chalmers, Dwyane Wade, LeBron James, Chris Bosh, Festus Ezeli. All of the sudden, the team now has a big lineup instead of a small one. Coming off the bench is Norris Cole, Mike Miller, Shane Battier, Udonis Haslem, and Joel Anthony. While that's hardly an impressive squad, they are where they belong-coming off the bench instead of starting.
Can the Heat will a title this year? That remains to be seen. But can Ezeli help them for the future? Absolutely.
Up next is Miami's opponent in these Finals, the Oklahoma City Thunder. As they try to win the title as well, I think you'll see they have more holes than many think, which they will try to address with the 28th pick in the draft.