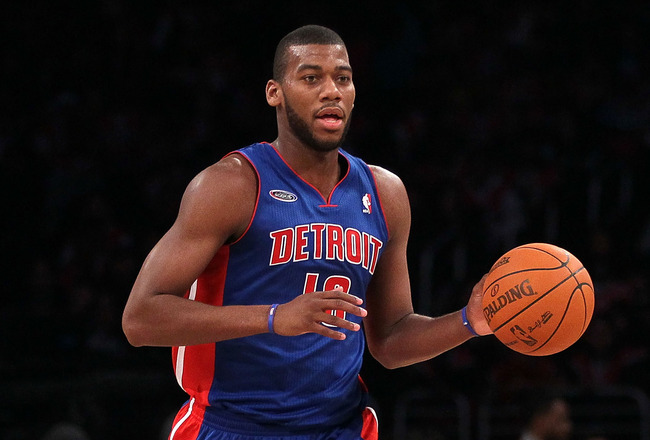 Monroe is the next big thing at center.
The Pistons won the NBA title back in 2004, showing that their management knows how to build a champion. They built a core of Chauncey Billups, Richard Hamilton, Tayshaun Prince, Rasheed Wallace, Ben Wallace, and Antonio McDyess. They didn't have a true superstar, which is what you now need to win in this league. Fortunately for them, they have a future star in Greg Monroe. They'll look to add around him in this draft.
Detroit will lose Jason Maxiell and Ben Wallace to free agency. It's probably for the better, as the two big men are aging fast and Wallace is near the end of his career. The Pistons already have quite a few holes to fill.
They're set at point guard with Brandon Knight, a lottery pick out of Kentucky last year, who really came into his own in the second half of the season and looks to truly be a top PG of the future. Will Bynum is a capable backup. At shooting guard is Rodney Stuckey and Ben Gordon. The team can move forward with Stuckey, but they'll look to dump Gordon's fat contract.
Small forward is a position of interest. Tayshaun Prince is getting gray, but it remains to be see if Austin Daye can take over for him. Both are thin and lanky forwards. It worked for Prince, but it may not work for Daye. Power forward is an area of need. All they have is Charlie Villanueva and Jonas Jerebko, two players who are no better than second uniters.
And of course, Monroe is a beast at center. He's still incredibly young, but his offensive talent is sky high and he is a rebounding machine. Pair a defensive big man next to him and you've got yourself quite a duo down low.
So what do the Pistons need? They baldy need a power forward. Maybe a small forward if they deem Daye no good. And some guard depth. Let's venture into picks #9, #39, and #44.
Since PF is the biggest need, the Pistons should use the 9th pick on one. A dream scenario would be if Thomas Robinson fell to them, but it's foolish to believe that could actually happen. That being said, there are four main contenders for this pick: Perry Jones, John Henson, Jared Sullinger, and Arnett Moultrie.
Henson may be the best shot blocker in the draft.
We'll rule out Moultrie because I predicted him being taken by the Raptors. Sullinger is also a bit of a long shot because he isn't a dominant defender that Detroit will be looking for. Jones could be, but his risk makes this pick even more obvious than it already is. The Pistons should take Henson.
Henson may be limited offensively, but his rebounding is very good and his 7' 4" wingspan adds to his fantastic shot blocking ability. He'll need to improve his jump shot and add some weight, but right now, Henson looks to be the perfect player to go next to Monroe.
With their next two picks, Detroit could go a few different ways. That's why they'll probably aim to take the best available. Here are some candidates.
There are a handful of guards that the team could take if it decides to go that direction. Tony Wroten form Washington is a dynamic scorer, but he will probably already be off the board. Tomas Satoransky from the Czech Republic has great size and could become the best European player in this draft. Tyshawn Taylor from Kansas improved his offensive game this past year to go with sound perimeter defense. J'Covan Brown from Texas has the ability to light up the scoreboard, although he needs to work on his shot selection.
Miller could compliment Daye at SF.
Then, at small forward, Darius Miller from Kentucky would be a solid pick. He has an above average shot combined with more bulk than Daye. Jae Crowder is another player who can add some strength to that position, although the Pistons may worry about Crowder's defense skills.
If I were the Pistons, I would take Henson with the 9th pick and then grab Miller and Taylor with the 39th and 44th picks. That would give the team a starting five of Brandon Knight, Rodney Stucky, Tayshaun Prince, John Henson, and Greg Monroe, and a bench of Will Bynum, Ben Gordon, Tyshawn Taylor, Darius Miller, and Austin Daye. While this squad may lack some big man depth, they would be well on their way to being a playoff team once again.
Nearing the end of the lottery, I turn to the Milwaukee Bucks with my next "How Can I Help You?" article.